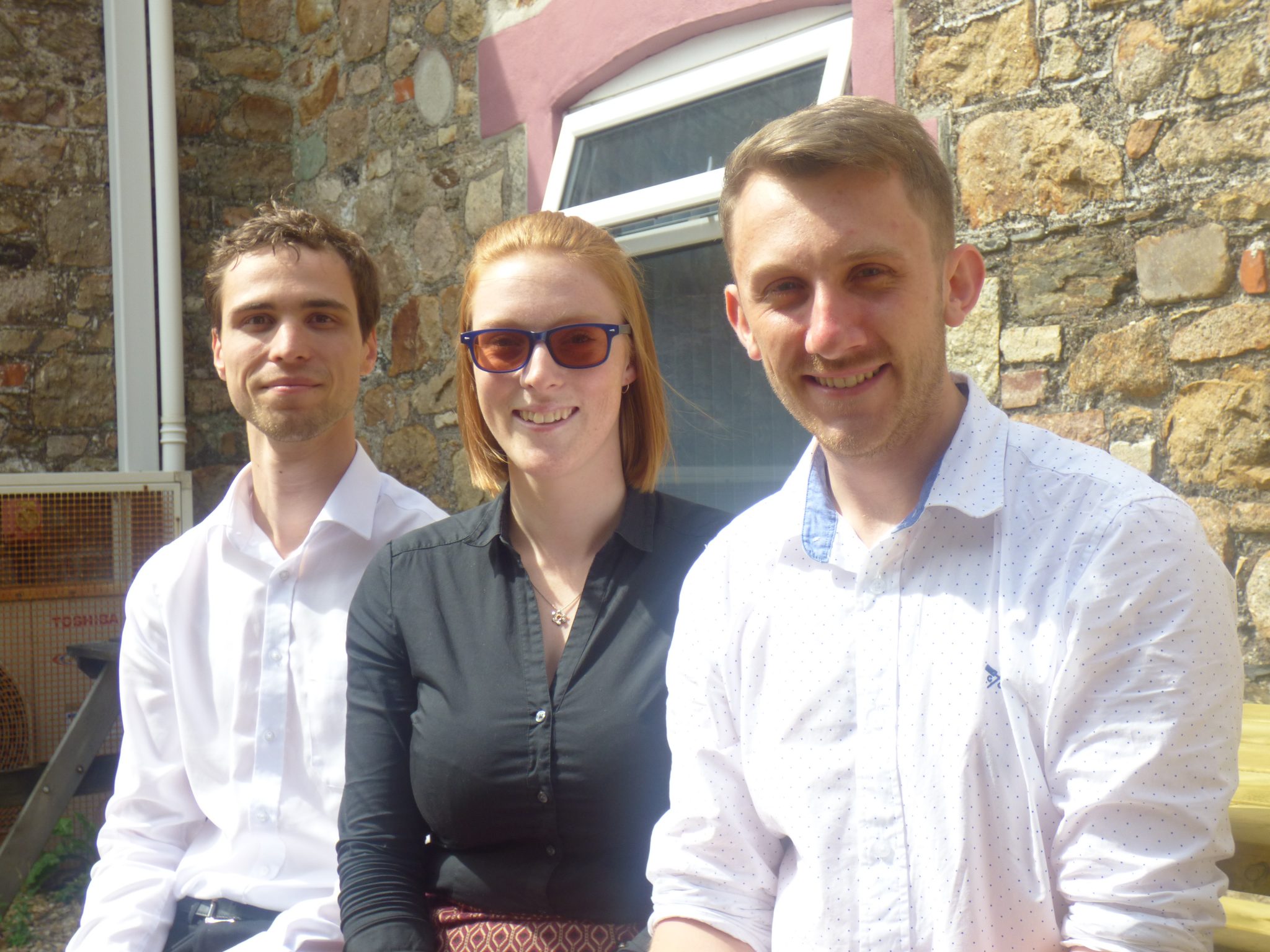 A huge welcome to our new Graduate Engineer's!
John Grimes Partnership Ltd has a long-standing relationship with Plymouth University and every year present the most promising undergraduate student in the Geotechnics modules with the JGP Merit Award. This summer JGP have had the pleasure of recruiting three of Plymouth University's finest graduates. It also happens that one of these Graduates, Andrew Carter, won the 2017 JGP Merit award, Click Here to see a younger Andrew.
Andrew Carter (first from the right) has just graduated from the University of Plymouth with a Masters Degree in Civil Engineering. During Andrew's studies, he developed an interest in structures and geotechnics and subsequently worked for a design consultancy in Guildford on a summer placement. During this time, he worked on structural designs and BIM integration for Great Ormond Street Hospital and Selfridges in London.
Andrew thrives on problem solving and is excited to begin a career in engineering design. Outside of work, Andrew enjoys mountain biking, playing guitar and drinking good coffee.
Sarah Turner (middle in the image) studied an MEng in Civil and Coastal Engineering at the University of Plymouth.  Through Sarah's summer and year placements, she developed a focus on the fluvial and coastal environments and their associated risks.  Sarah has been fortunate to have worked on a variety of projects including the Exmouth Tidal Defence Scheme.
Sarah enjoys a variety of outdoor activities, but her main passion is for her horses.  Sarah is looking forward to getting involved with all things coastal and expanding her knowledge at John Grimes Partnership.
Richard Leevers (first from the left) studied Civil & Coastal Engineering at Plymouth University. He is keen on all aspects of engineering water, whether it is drainage or coastal.
He has previously worked across work sites in New Zealand, taking part in digging foundations, drainage laying, steel tying, carpentry, embankments, concrete pours, etc.  He came back to the UK to finish his studies and during that time he worked for GAP Ltd, an engineering consultancy in Dorset, and the Environment Agency in Exeter.
He enjoys playing violin in the Plymouth University orchestra, a string group called Summer Strings, and local folk/jazz jams. He is also very active and makes the most of the surrounding countryside, from hiking and traditional climbing on Dartmoor to diving in Plymouth Sound.
Director, John Grimes, is pleased to welcome all 3 Graduate Engineers and says:
"I am delighted to welcome Andrew, Sarah and Richard to the JGP team and wish them every success in their new positions. They join us at an exciting time as we continue to attract a wealth of new clients and expand our services."