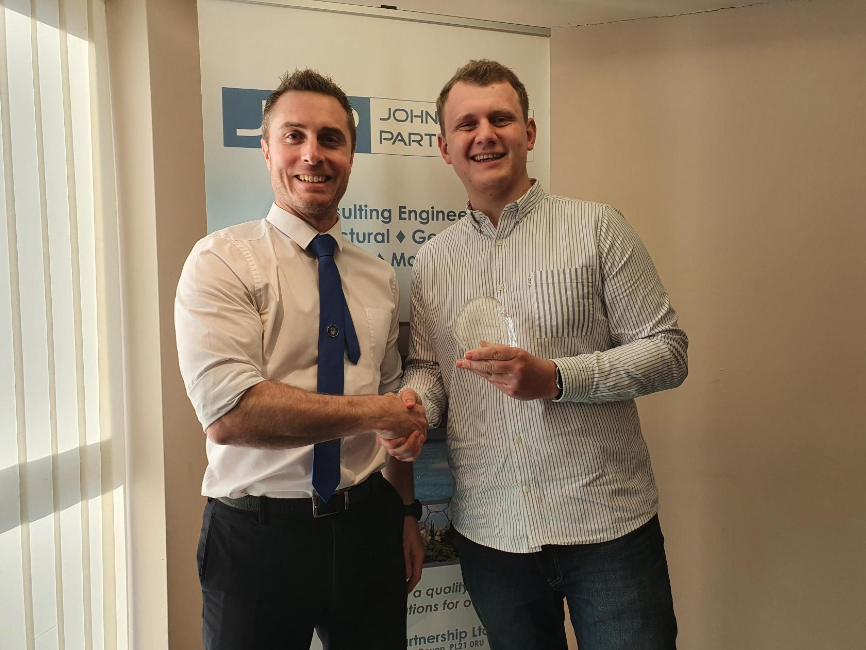 JGP Merit Award in Geotechnics at Plymouth University – 2022
The JGP Merit Award in Geotechnics was presented slightly early this year as the module at Plymouth University for the BEng (Hons) Civil and Coastal Engineering was moved from the 'Spring Semester' to the 'Autumn Semester'.
The 2022 JGP Merit Award for the most promising student in Geotechnics was presented to Harrison Dunn by Matthew Owen.
Dr Ed Ellis accompanied Harrison to the office and had a blast from the past on this visit; he regularly bumps into his old Plymouth students at JGP! This time around, he saw a student from his teaching days at Nottingham University, Ellie Bath who runs JGP's Civil and Infrastructure Engineering Department. They last met in 2007.
Harrison is currently in Year 2 of studying MEng Civil and Coastal Engineering at the University of Plymouth. He was drawn to the course due to his love of the coast and water sports as well as a fascination with built infrastructure and how it can dramatically improve facilities for such a large number of people.
He is currently enjoying studying hydraulic and coastal engineering as well as a structures module. In the future, he hopes to secure some work experience and progress his career after graduation into the coastal engineering or water engineering disciplines.
In the last semester, he thoroughly enjoyed studying geotechnics and said "I felt very proud to receive the John Grimes Partnership Merit Award for my achievements within the module. A highlight of the module was studying groundwater flow and being able to visualise this during lab sessions. Upon receiving my award at John Grimes Partnership, I was able to take a tour of the office which gave me insight into how multiple disciplines can work together to bring projects from start to finish in such a professional workspace. I would like to thank John Grimes Partnership again for the award and I'm sure it will provide extra encouragement to achieve my ambitions in the future."
JGP wish Harrison the very best with his studies and we hope to see him in the future.
If you are interested in studying engineering at Plymouth University, you can find further information on all of the available courses by clicking here https://www.plymouth.ac.uk/courses/undergraduate/beng-civil-and-coastal-engineering