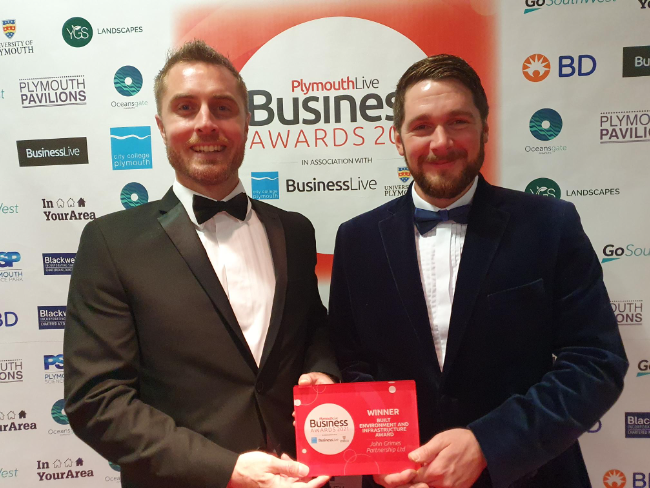 Plymouth Live Business Awards 2021
On Wednesday the 3rd of November 2021, we donned our glad rags and attended the Plymouth Live Business Awards at Plymouth Pavilions.
John Grimes Partnership entered the Built Environment and Infrastructure category. This seeks to recognise local businesses that are making a major contribution to Plymouth's built environment and its infrastructure development.
JGP was shortlisted together with some worthy opponents: Future Plymouth 2030 (https://www.futureplymouth2030.co.uk/), who are dedicated to helping the construction industry reduce carbon and have a more positive impact on the environment; and Plymouth Community Homes (https://www.plymouthcommunityhomes.co.uk/), who are the largest social housing landlord in Plymouth.
Our category was the second award of the night. We were all on tenterhooks, and when the event Hosts, Claire Jones from BBC News and Alex Wood from ITV News, announced "John Grimes Partnership Ltd" as category winners, our Directors Matthew Owen and Tim Grimes took to the stage to receive the Plaque.
Our submission highlighted the numerous construction, contaminated land and infrastructure projects within the City of Plymouth that we have been proud to be involved with since the company was established in 1987. We have worked on many of the iconic buildings and developments within the City, such as the DDRC (Diving Diseases Research Centre) extension, The Forder Valley Interchange, The City Business Park redevelopment, The Millbay Regeneration Scheme, Queen Anne's Apartments development and many road improvement schemes across the city. We have also helped many domestic clients and small businesses in and around the Plymouth area.
As an SME, JGP were pleased to take this opportunity to demonstrate the contribution that we have made to the City's built environment and our continued commitment to the local area. With so many exciting developments planned in and around Plymouth, such as the free port status and the UK's first national marine park, we hope to be involved in many more noteworthy projects over the next 30 years.
This award recognises our staff and all of their hard work, creating long-lasting relationships with clients who return again and again. Our staff have helped build our reputation of being recognised specialists in our fields and providing sound engineering advice on projects of all scales, including those relating to complex scenarios requiring a combination of engineering expertise.
Finally, we would like to thank Plymouth Live in association with City College Plymouth, Business Live and University Plymouth, for hosting the event. The Dinner was superb and the whole event was thoroughly enjoyed by our team. Congratulations to all of the companies that were shortlisted and received recognition for their excellent contribution to Plymouth's vibrant business community.