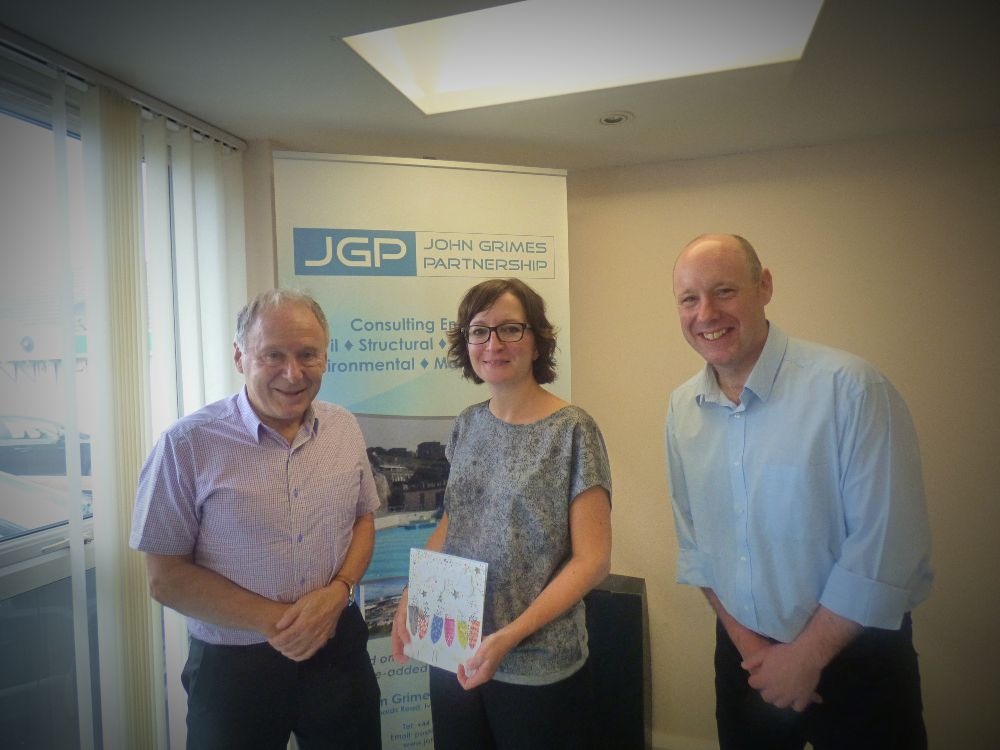 JGP Merit Award in Geotechnics at Plymouth University – 2019
Every year JGP sponsor a Merit Award for the most promising undergraduate in Geotechnics at Plymouth University. Geotechnical Engineering is a Core Module in the second year of the BEng (Hons) Civil and Coastal Engineering course. The duration of this course is three years with an optional placement year between the 2nd and 3rd years. This year Dr John Grimes presented the JGP Merit Award 2019 to Sarah Durbridge.
Sarah attended our office in Ivybridge to receive the JGP Merit Award 2019 with Dr Edward Ellis, a lecturer in Civil Engineering at Plymouth University. Dr Ellis has been a Lecturer to multiple employees at JGP and it is always a pleasure to welcome him to our office.
Sarah had previously worked as a Personal Injury Lawyer and an Investigator for the Insolvency Service. As Sarah wanted to change her career, she made the decision to return to the subjects that she enjoyed studying at school by retraining as a Civil Engineer. She is looking forward to being involved in projects that will positively affect people's lives.
Following Sarah's successful completion of the second year, she is now working as an Assistant Project Manager for AECOM. She hopes that the year away from her studies will help her to decide where her specific engineering interests lie. Following the future completion of her MSc in Civil and Coastal Engineering, Sarah's long-term goal is to become a Chartered Civil Engineer.
We wish Sarah all the best in her future career.
JGP has recently employed several of this year's graduates from Plymouth University, one of whom won the JGP Merit Award in Geotechnics back in 2017. For further information about our new graduates click here.
If you are interested in studying engineering at Plymouth University, you can find further information on all of the available courses by clicking here